Katie Lynch was born in Rye, NY in 1980. At age eight, having devoured every age-appropriate book in the house, she was given J.R.R. Tolkien's Lord of the Rings by her mother. The book was a life-changer, motivating Katie's interest in the medieval English and Scandinavian literature that inspired Tolkien's work.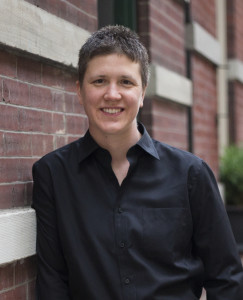 In 1992, Katie's family moved to France for three years. She attended the American School of Paris and enjoyed the opportunity to travel throughout Europe. Exploring the ruins of French, German, English, and Irish castles only crystallized her interest in the medieval period. At age fourteen, she began work on her first book: an earnest but ultimately rather silly fantasy novel in which the protagonist—also an adolescent girl—was possessed of every superpower imaginable.
Katie matriculated at Dartmouth College in 1998 where, after a brief flirtation with astrophysics, she began to pursue her ongoing interest in English literature with an emphasis in creative writing. Her creative focus began to shift away from the fantasy genre and into the realm of women's fiction.
In 2003, Katie moved to Madison, WI to pursue a doctorate in literary studies at the University of Wisconsin-Madison. Her dissertation, titled Satan Bound: The Devil and the Imagery of Physical Constraint in Early Medieval England, was completed in 2010.
Katie is now an English professor and the head of the Honors Program at Rockland Community College. She lives with her wife, their son, and their two dogs in the West Village of New York City.
Confucius Jane was released by Forge Books on January 19, 2016. It was edited by Kristin Sevick. Katie is represented by Meg Ruley of Jane Rotrosen Agency.